Onyx Cave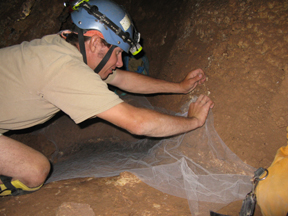 Escabrosa Grotto manages one of the best caves in southern Arizona - Onyx Cave - known for its beauty and world-class caving opportunities. It is highly decorated, including dozens of rare shield formations, flowstone, columns, helictites and soda straws. Onyx is a primarily horizontal cave on several levels with attendant verticality - often requiring vertical techniques and equipment to progress from one level to the next.
Onyx Cave is challenging and over 11,300 long. Prior to being gated, this cave was the site of vandalism, injuries and incidents. One death resulted from a lack of preparation and knowledge, resulting in a 95-foot fall.
Escabrosa Grotto holds the lease to Onyx Cave, maintains the gate, and administers key access. We have a strictly enforced management plan to protect the cave as a non-renewable resource and maintain it in the best condition as possible.
VISIT ONYX
All trips are lead by experienced, independent leaders, and participants must have some prior caving experience. During bat maternity season, recreational caving trips in Onyx are restricted for the well-being of the bat colony.
We usually have a monthly grotto trip to Onyx Cave for surveying, cleanup or restoration. This is a great way to learn the various routes and passages in this maze-type cave. Newcomers are always welcome to join us as long as they have the necessary equipment and skills required for the portion of the cave we are going to. The normal trip is 6 to 12 hours in the cave. You will want to check with your trip leader for skill and gear requirements, as well as other details of the planned trip, prior to signing up for an Onyx Cave trip.
Prospective trip leaders, please use the links on this page to begin the process of planning an Onyx trip. Contact the Conservation Chairman at your earliest convenience concerning dates available.
PLEASE CAVE SOFTLY